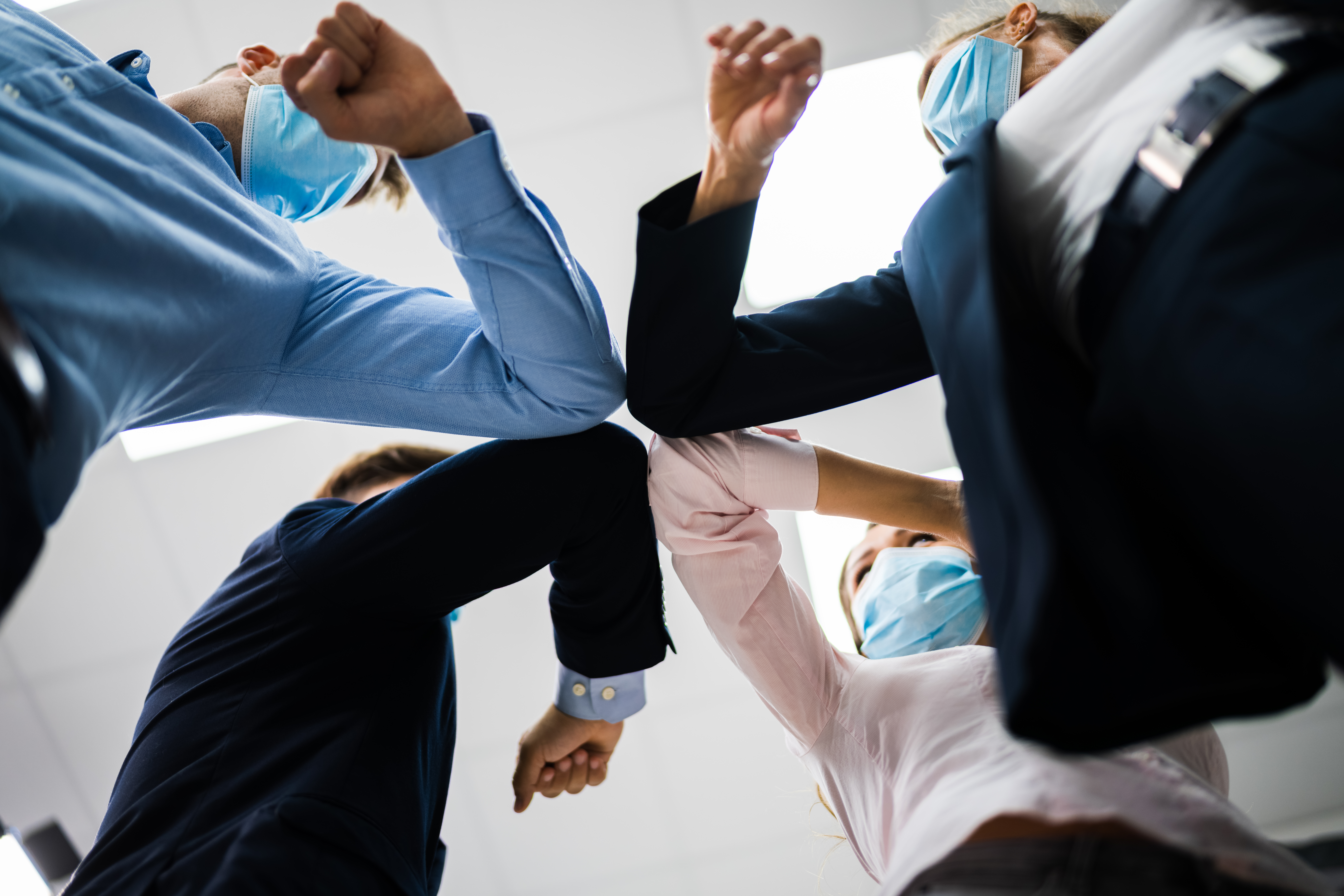 ​While the Australian Government's official policy on receiving the COVID-19 vaccination is that it is free and voluntary, it aims to have as many Australians vaccinated as possible.
The Federal Government stated that it won't use its powers to give employers a free hand to mandate vaccines. However, Prime Minister Scott Morrison also said, "Decisions to require COVID-19 vaccinations for employees will be a matter for individual business, taking into account their particular circumstances and their obligations under safety, anti-discrimination and privacy laws."
As we head towards re-opening the economy and having more employees return to offices and worksites, more and more businesses are looking for clarity around the subject of vaccine mandates. While everyone has a different opinion around whether they should be mandated, what we really need to know is, can they be?
​
What does the legislation say?
As the COVID-19 vaccine becomes more available, some employers or service providers are seeking to require their staff or customers to be vaccinated. Large corporations such as SPC, Qantas and Medibank have taken this approach (even before being mandated under a public health order); but we have also seen small businesses such as cafes, bars and small retail stores employ the same strategy to protect staff and customers.
Some states have suggested that vaccination will be a requirement for those who wish to attend venues/events with large crowds, and we have seen the NSW Government offer more freedoms to those that are fully vaccinated. Travelling overseas will also require a person to be fully vaccinated. For this reason, it would be appropriate to assume that if being fully vaccinated is a requirement of entering a venue, attending an event or travelling, those who are working within these settings will also need to be vaccinated.
As stated on the Fair Work website; employers can only require their employees to be vaccinated where:
•a specific law (such as a state or territory public health order) requires an employee to be vaccinated;
•the requirement is permitted by an enterprise agreement, other registered agreement or employment contract; or
•it would be lawful and reasonable for an employer to give their employees a direction to be vaccinated, which is assessed on a case-by-case basis.
Further to this, the Fair Work Ombudsman has, under new proposed guidelines, given the go-ahead to employers in certain 'high-risk' industries to mandate COVID-19 vaccinations if the direction is considered lawful and reasonable. Two conditions stand out:
•Employees must interact with people with an elevated risk of being infected with coronavirus. For example, if they work in hotel quarantine or border control.
•Employees must have close contact with people who are most vulnerable to the health impacts of catching COVID. For example, if they work in aged care.
This second condition aligns with rulings in unfair dismissal cases involving employees refusing influenza vaccinations. In three such cases this year, the Fair Work Commission said it was reasonable for employers in the aged care and childcare sectors to insist on vaccination as a condition of employment.
Information on work health and safety obligations is available from Safe Work Australia.
Victoria
In Victoria, we have seen the vaccine mandated under public health orders in industries such as aged care, construction, healthcare, and as of the 29th November, staff in all Victorian schools (public and private) and early childhood services must be fully vaccinated.
To further control the spread of COVID, on the 1st of October, the Victorian Government announced its intention to make the COVID-19 vaccination mandatory for authorised workers in Victoria who can't work from home. Authorised workers (in Melbourne and regional Victoria) are required to have their first dose of the COVID-19 vaccine by the 15th of October in order to continue working onsite; and their second dose by the 26th of November.
The authorised worker list is extensive and covers multiple industries. For further information about who is considered an authorised worker, visit: https://www.coronavirus.vic.gov.au/authorised-provider-and-authorised-worker-list
Employers and workers must comply with any public health orders that apply to them.
If you can't mandate, you can still encourage
Employers have a fundamental legal obligation under work health and safety laws to provide a workplace that is, so far as reasonably practicable, healthy and safe for their employees, including contractors. They must also keep visitors safe. This explains for example, why building companies mandate that workers and any site visitors wear hard hats, rather than letting everyone make their own choice about whether they would like to wear a hard hat or not.
If employers are unable to mandate that all employees be vaccinated against COVID-19, they can certainly encourage it. Below are ideas that businesses can try in order to promote getting vaccinated:
•Make getting the vaccine easy – this could include making it available at work or facilitating appointments for staff who need/want help booking in
•Make sure there are no financial burdens associated with getting the vaccine – offering all employees (including casual staff) paid time off to receive the vaccine if only weekday appointments are available
•Provide employees with relevant government and health advice – if employees are still unsure, encourage them to speak to their doctor
Unless it is lawful and reasonable in the circumstances for employers to require employees to disclose their vaccination status or provide a reason for their refusal to be vaccinated as part of a mandatory vaccination policy, workers do not have to tell their employer if they have been vaccinated, or even give a reason behind it.
To keep on the safe side, employers should discuss any concerns with employees who are unable to, or don't want to have the COVID-19 vaccine and discuss alternative measures that can help them do their job safely.
Consider how vaccine policies will impact your recruitment process
An employer may be able to require a prospective employee to be vaccinated against coronavirus. However, before requiring that a prospective employee be vaccinated before starting employment, employers should consider their obligations and responsibilities carefully, for example, under general protections or anti-discrimination laws.
Companies that are looking to fill roles in industries where the COVID-19 vaccine has been mandated (or they have mandated the vaccine within their business), will not only need to introduce new policies and procedures for current staff – ensuring accurate records are kept in regard to an employee's vaccination status – but they will also need to ensure that all new hires are vaccinated.
If you are intending to mandate vaccines in your business or want to ensure that all new hires are fully vaccinated, here are a couple of tips for approaching the subject during recruitment:
Be transparent
Although asking a potential candidate about their current COVID-19 vaccination status can be awkward, transparency is key. Applicants should be advised at the earliest possible stage in the process that vaccination is a requirement. This can be mentioned in the job advertisement or during the phone screening stage.
Consider exemptions
Companies also need to consider whether exceptions apply, or accommodations can be made for disability and religious-based reasons.
Set reasonable timelines
For mandated industries, the timeline of vaccination status is set by the government. However, if a company is looking to mandate the COVID-19 vaccine in an industry where it is not mandated under public health orders, employers need to consider when setting dates that it takes a certain amount of time to be fully immunised. To take the pressure off, some employers are requiring that new hires only need one dose before their first day of work.
As we have seen recently with the protests in Melbourne, there are many people who refuse to get vaccinated against coronavirus. There will be employees that leave their job or even their industry for this reason. Likewise, there will be candidates that will no longer want to pursue roles where vaccination is required. For the most part, the reasoning behind employers wanting to mandate the vaccine is to protect the health and safety of their staff (and visitors), while providing an environment where people don't feel at risk.
There is no doubt that the employment environment will change over the next several months, and many businesses will have to update or change their HR and recruitment processes to include vaccination policies. In these situations, it can help to have expert help on hand to navigate both the legalities and best practice. BWS Recruitment can help you manage recruitment in a post-COVID world and help determine the best way to incorporate vaccine information into your hiring process. Click here to contact us and start a conversation.
For a full list of current health orders requiring vaccination in various states and territories, please visit: https://coronavirus.fairwork.gov.au/coronavirus-and-australian-workplace-laws/covid-19-vaccinations-and-the-workplace/covid-19-vaccinations-legislation-and-public-health-orders
​