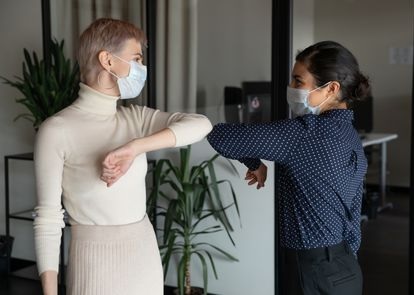 As some parts of the world continue to struggle through the COVID-19 pandemic, some parts of Australia and the world are starting to ease restrictions in order to limit the economic impact. The states are acting independently on how they plan to come out of the lockdown measures put in place however, for Victoria, we will see a possible return to "near normal" working conditions in early June. With that in mind, now is the time for businesses, and their leaders, to start thinking about what they can do to ensure a smooth return to "almost normal" activity – keeping their employees engaged and focussed.

Below is a list of areas that leaders can focus on to ensure that they are prepared for when employees return to the workplace, which can be quite scary, awkward and jarring for some.

1. Workplace safety must remain – COVID-19 is still out there, and people can still catch the virus. Prior to employees returning, hire a cleaning service to deep clean the entire office and when employees return, ensure that you encourage good hygiene. Hanging posters in common areas providing information about coughing/sneezing etiquette, good handwashing practices, not coming to work if they feel unwell and the COVID-19 symptoms can be an excellent reminder for people that this virus hasn't just disappeared.
It is also a good idea to provide the appropriate supplies to maintain good hygiene – such as disinfectant wipes/spray, hand sanitiser, hand soap, tissues etc.
2. Staff engagement – With social distancing and employees working from home for the past 5 – 6 weeks, motivation can be low. Meeting with them to discuss new goals and objectives can help employees refocus – especially if business hasn't quite returned to normal, and is not expected to right away.
3. Clear future – Employees may still feel unsure about their jobs' security, or the direction of the business. It is important to realign goals by reflecting on what has happened in the last few months and plan where the business will be at the end of the financial year and beyond. This should be communicated clearly to all staff to ensure transparency and avoid unnecessary stress and worry.
4. Restore the productivity – After a couple of months of working remotely, employees will have created a new "home" routine. Reluctance to give up remote working will be one of the biggest challenges for businesses when we return to work. To help ease the transition:
a. Be flexible with work hours for the first few weeks;
b. If their job allows it, let employees work remotely for a little longer;
c. Offer to add a few remote work days each month to their contract.
Businesses should ensure that employee's workstations are functional and safe again, and that employees have everything they need to perform their job. Equipment taken home should now be returned if it is not required to work from home in the future.
5. Mental health – People have had to adjust to major changes within their life during the pandemic, and even though an employee has returned to work, they could still be suffering from the effects of social isolation, financial impacts, family members being sick etc., so it is important to monitor staff and check in on them regularly.
6. Encourage social interaction – With so much time apart, it might be a good idea to encourage employees to reconnect. Perhaps having a longer lunch together, or celebrating the return to the office with an afternoon tea will help re-create the bond.
7. Reflect and focus on the positives – Upon returning, focus on what you have learned from this situation, and what positive initiatives you can implement moving forward. Are online meetings something to consider over travel; can you implement more flexibility around working from home? These things can reduce costs and improve employee work life balance, in turn lifting morale.

All in all, flexibility, understanding, honest communication and adherence to best practices will help ease the transition as employees adapt to the "new normal" back in the workplace.